Here's a quick recap of some of the biggest LGBT+ headlines from 2018!
January
Same-sex Australian couples were able to marry
Following the legalisation of same-sex marriage in December 2017, many couples married on January 9 as that was the first day that most couples could tie the knot, after waiting out a standard 30-day notice period for marrying in Australia. Loads of beautiful photos were shared online; what a great start to the year!
February
Bermuda becomes first place in world to repeal same-sex marriage
Disappointing news hit the LGBT community back in February as Bermuda became the first place in the world to repeal same-sex marriage. The British overseas territory's governor signed legislation into law that replaced same-sex marriages with domestic partnerships. Politicians in Britain expressed their disappointment, calling it a "backwards step" for human rights in Bermuda.
Team USA freestyle skier kisses boyfriend live on TV which is seen around the world
U.S. freestyle skier Gus Kenworthy lost his final race of the 2018 Winter Olympics, but his live TV kiss with boyfriend Matthew Wilkas caused quite the reaction online! After the event, he said: "I didn't even know that that was a televised moment at all, but I think that's amazing." People across social media were feeling the love!
Queer Eye released on Netflix
Queer Eye premiered on Netflix and the re-boot of the 00s "Queer Eye for the Straight Guy" did not disappoint. The show brought on all the feels with its positive energy and focus on self-love. People from all kinds of backgrounds were given a makeover on the inside and out by the Fab Five and the reception to the new show was overwhelmingly positive! Yassss!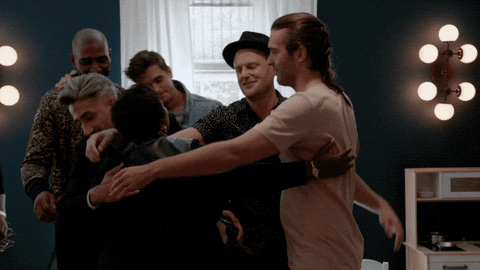 March
RuPaul apologies to trans community after comments about trans women competing on Drag Race
RuPaul came under fire in March after he said in an interview that he wouldn't necessarily allow transgender women to compete on Drag Race if they had begun any type of surgical transition. Many fans and the trans community were upset and angered by his comments, prompting him to issue an apology. He tweeted "Each morning I pray to set aside everything I THINK I know, so I may have an open mind and a new experience. I understand and regret the hurt I have caused. The trans community are heroes of our shared LGBTQ movement. You are my teachers."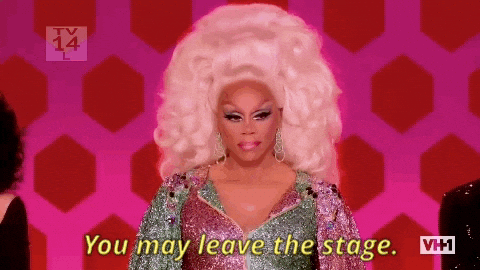 First trans woman news presented in Pakistan
On the 23 March Maavia Malik appeared on Pakistani TV and presented the news, becoming the first transgender woman to do so in Pakistan. She said "In a country such as Pakistan, it is common to mock transgender people, who are expected to earn their livelihood mainly by dancing, begging or working in the sex trade. Like other trans people, I did not get any support from my family. On my own, I did some menial jobs and continued my studies. I had always wanted to be a news anchor, and my dream came true when I got selected." What an inspiration!
April
Trinidad and Tobago legalises gay sex
In April, a high court judge in Trindad and Tobago ruled that the historic laws banning "buggery" were unconstitutional. Judge Devindra Rampersad said that the laws banning "serious indecency" infringed on the constitutional rights of LGBT people on the Caribbean islands. Let's hope more Caribbean countries follow suit!
Irish Eurovision entry features a love story between two male dancers
Ireland's Eurovision 2018 entry featured a beautiful same-sex dance routine showing love between two men. This was the first time in Eurovision history that a same-sex couple have been featured on stage during a main act's performance. Chinese network TV network Mango TV actually censored the performance, as well as Albania's as this broke their rules of no tattoos on TV. The European Broadcasting Union (EBU) has since barred Mango TV from airing the Eurovision song contest saying that censorship was not in line with its values of diversity.
Conchita Wurst revealed she's living with HIV following threats from a former partner
2014 Eurovision winner Conchita Wurst posted on Instagram in April that she is HIV positive after a former partner threatened to go public with this information. Ian Green, chief executive of Terrence Higgins Trust, said: "The decision to talk openly about your HIV status should be a personal one and not taken away or ever, ever used as a threat. Threatening to reveal someone's HIV status, under any circumstances, is entirely wrong… We applaud Conchita for handling this with such dignity and including in her post that people living with HIV who are on effective treatment, like her, can't pass the virus on."
May
Rita Ora opens up about relationships with women after backlash to 'Girls' lyrics
After realising 'Girls' with Charli XCX and Cardi B, Rita Ora faced critisicm over the lyrics, with people accusing her of just playing up to the male gaze of same-sex relationships between women. Rita then revealed she has had 'romantic relationships' with women as well as men after public criticism from singers Hayley Kiyoko and Kahlani. Lyrics included 'I'm 50-50 and I'm never going to hide it' (before rejecting a man's advances), 'Sometimes, I just want to kiss girls / Red wine, I just want to kiss girls', and 'I could be your lipstick just for one night.'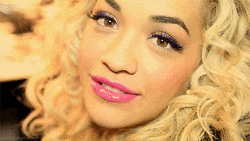 June
Syphilis and gonorrhoea up by one-fifth
Public Health England's 2017 data was shared in June, which showed a huge rise in syphilis and gonorrhoea, especially amongst men who have sex with men. Don't forget that condoms are the only way to protect against all STIs, so make sure you stock up and use them!
July
Anti-trans group march at London's Pride parade
Anti-trans protesters ruined the spirit of Pride at the Pride in London parade this year by lying down on the ground at the front of the march and carrying banners and flyers stating "transactivism erases lesbians". The group of around 10 protesters was organised under the Twitter hashtag #GetTheLOut. This sparked the counter campaign #LwiththeT, with lesbians sharing their support for the trans community online.
Barbados holds first ever Pride
The Caribbean island of Barbados held its first ever Pride parade in July. Over 120 people joined the parade and attendees marched and danced through the streets of the capital, Bridgetown.
"Amidst immense backlash, hurdles and fear of violent bigotry, we pushed through," one of the march organisers, co-director of Barbados Gays & Lesbians Against Discrimination (B-GLAD), Ro-Ann Mohammed, wrote in a statement to PinkNews.
August
Suicide of 9 year old who came out as gay makes headlines across the world
A tragic story made headlines across the world in August. Nine year old Jamel Myles took his own life in his family home in Colorado, USA. Over summer, he had told his mum that he was gay and how excited he was to go to school and tell his classmates because he was so 'proud' of who he was. Unfortunately though, he sadly became the victim of homophobic bullying, with some kids were telling Jamel to 'kill himself'. In the wake of Jamel's death, there was an outpouring of love and support from the LGBT community and allies.
Anti-trans stickers posted around London
After a number of penis-shaped stickers with phrase "women don't have penises" – were stuck around London, including on Stonewall's office building. Sarah Brown, a member of Stonewall's Trans Advisory Group and a trans woman, told PinkNews: "These stickers are puerile and disgusting. There is a strong push to demonise trans women in the UK and I really worry where it's going." The stickers were thought to be linked to members of the #GetTheLOut group, who disrupted the Pride in London parade in July.
September
India legalises gay sex
One of the biggest pieces of LGBT+ news worldwide this year was when India decriminalised same-sex sexual relationships. This was a massive step forward for human rights and the LGBT+ community on a global scale.
U.S. golfer Tadd Fujikawa becomes first openly gay professional golfer
Tadd Fujikawa became the first male professional golfer to come out as gay in September. The golfer shared an Instagram post saying "I don't expect everyone to understand or accept me. But please be gracious enough to not push your beliefs on me or anyone in the LGBTQ community. My hope is this post will inspire each and every one of you to be more empathetic and loving towards one another."
Stats from Public Health England show a 17% drop in new HIV diagnoses in 2017
There was more excellent HIV news this year, with Public Health England statistics showing new HIV diagnoses in the UK dropping for the second year in a row. New diagnoses decreased by 17% in 2017 compared to 2016. PHE said on their release "The reduction was largely driven by a decline in new HIV diagnoses among gay and bisexual men, which fell by 17% compared to 2016 and by 31% compared to 2015. This decrease was due to the high uptake of HIV testing in this group, particularly repeat HIV testing among higher risk men. Increased uptake of anti-retroviral therapy (ART) – drugs that keep the level of HIV in the body low and help prevent it being passed on – also significantly contributed to the decline in new diagnoses."
100% trans model line-up walked runway at NYFW
Designer Marco Marco's show at Style Fashion Week New York in September featured only transgender models. Marco Morante said "I wanted to create a space to celebrate trans bodies. This was an opportunity for their presence to be undeniable and reinforce that trans is beautiful." 34 models walked the runway in the show, including YouTube star Gigi Gorgeous.
October
Emma Watson shares photo wearing trans rights t-shirt
Actress Emma Watson shared a photo of herself on Instagram back in October wearing a t-shirt saying "Trans Rights are Human Rights" and was met with lots of praise from people on social media. The photo unfortunately sparked some transphobic tweets back but they didn't take away the awesomeness of such a major celebrity supporting trans rights.
November
10 'suspected lesbians' arrested in Indonesia
Indonesia hasn't has a great year in terms of LGBT+ rights, but the arrest of 10 'suspected lesbians' back in November really showed the dangers currently faced by LGBT+ people in Indonesia. Amnesty International Indonesia's Executive Director Usman Hamid condemned the recent events, saying 'This situation is alarming as the hateful abuses by law enforcement bodies against LGBTI people are seen as a normal practice by many people in Indonesia."
John Bishop's comments on gay son commended
Comedian John Bishop discussed having a gay child on the Johnathon Ross show and won support online with this kind words. He advised parents on LGBT children: "Say 'it's OK.' Just love them for who they are and allow them to feel safe, and then those little digs and the little knocks and the little abuse that they subtly get that we don't know about, perhaps won't penetrate as deep." Yes, John!
Rugby star Gareth Thomas attacked for being gay
In November, Gareth Thomas was assaulted in a homophobic attack in Swansea city centre by a 16-year-old boy. Thomas decided to use restorative justice, which focuses on the rehabilitation of offenders through reconciliation with victims instead of charging them with an offense. Many people praised Thomas for his mature response and potential to educate his attacker.
December
RuPaul announces UK version of Drag Race
It was announced in December that RuPaul's Drag Race would be coming to the UK in 2019. We're looking forward to seeing which UK queens will show us their charisma, uniqueness, nerve and talent!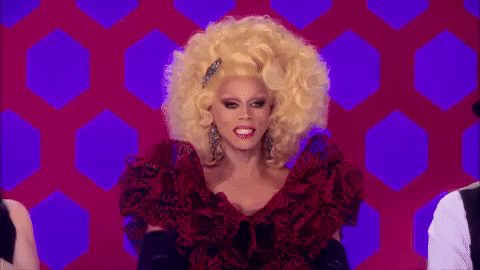 #lgbt #2018